"Oh, come without fear or trembling! I promise to receive you with all gentleness."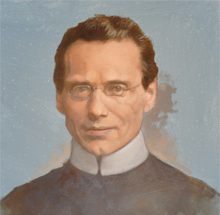 Preacher, Miracle Worker, Friend
The heroic and miraculous religious life of the "Cheerful Ascetic" Redemptorist Father Francis Xavier Seelos, C.Ss.R. (1819-1867) inspires legions of the clergy, religious, laity and specifically those seeking a miracle of healing throughout the world.
Beatified by Pope John Paul II in 2000, Fr. Seelos possessed great mystical gifts due to his life of intense prayer and penance. His innate kindness, understanding and dedication to the needs of the faithful from all walks of life makes him an outstanding model for those in religious life and laity alike. As a missionary preacher and lifelong friend of the poor and destitute, Seelos was a spiritual father to tens of thousands, giving counsel and hearing the confessions of all who came to him. Despite his untimely death at age 48, so profound was his apostolic zeal that sickness, persecution, and even the upheaval caused by civil war could not stop him.
My son was born with a heart defect that had no correction. I was told to make funeral arrangements. A woman gave me a Blessed Seelos relic. We prayed and placed the relic next to him in his crib. My son did survive the surgeries at birth, but was very sickly and needed a pacemaker. His body rejected the pacemaker and he reportedly died many times in the hospital but was always revived. He is now 39 years old with a family and job.
The night before my husband was scheduled to have hip replacement surgery he was burned on his arm while cooking. The burn caused a severe redness and blistering. We were told that if he had any type of injury before the surgery that might cause infection, the surgery would have to be canceled. We rubbed Father Seelos healing oil on his arm that night. We prayed for Blessed Seelos' intercession in our need and went to bed. The next morning the burn and blisters were gone! His surgery went very well. He is now home recovering and giving thanks every day!
I want to publicly thank Fr. Seelos for a prayer answered. This may not rise to the level of a miracle because a dire health diagnosis was never pronounced by the medical community, but to me a good result was God-sent nonetheless. My wife discovered a small growth on her breast and one always fears the worse. However, the mammogram results and the confirmation of her doctor proved the growth was not cancerous. Perhaps this was not a miracle but for my wife and me, it was certainly a petition answered with Fr. Seelos' intercession.
My son, Charlie, was diagnosed at birth with Pachygyria of the brain, confirmed by MRI results and a radiologist report. While Charlie was in the NICU, we obtained a relic of Blessed Seelos and prayed for his intercession. Several months later he underwent a second MRI and the results showed that he was miraculously healed. We firmly believe that Blessed Seelos interceded on our behalf. Our son is now 6 years old and perfectly healthy.