"Oh, come without fear or trembling! I promise to receive you with all gentleness."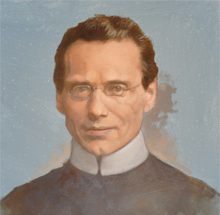 Preacher, Miracle Worker, Friend
The heroic and miraculous religious life of the "Cheerful Ascetic" Redemptorist Father Francis Xavier Seelos, C.Ss.R. (1819-1867) inspires legions of the clergy, religious, laity and specifically those seeking a miracle of healing throughout the world.
Beatified by Pope John Paul II in 2000, Fr. Seelos possessed great mystical gifts due to his life of intense prayer and penance. His innate kindness, understanding and dedication to the needs of the faithful from all walks of life makes him an outstanding model for those in religious life and laity alike. As a missionary preacher and lifelong friend of the poor and destitute, Seelos was a spiritual father to tens of thousands, giving counsel and hearing the confessions of all who came to him. Despite his untimely death at age 48, so profound was his apostolic zeal that sickness, persecution, and even the upheaval caused by civil war could not stop him.
In 2015 I shattered my hip and broke my leg. I was told I may not walk again. I have been a follower of Blessed Seelos for sixty years and said many prayers to him throughout my ordeal. Three days after surgery I was taken to get x-rays. Imagine my surprise as the cast was removed and there was a perfect cross on my bandage. That was my sign of hope and I told the doctor I would walk again. After 3 months of therapy I took my first step and never looked back. I was healed.
I had a growth on my face and my mom gave me a bottle of Seelos holy oil. One night I applied the oil to this growth. The next morning I was shocked to see the bump had significantly gone down. I continued putting it on my face every night and praying before I went to bed. Each morning the growth got smaller. A week later, the growth was gone. My face was smooth like nothing had even been there! The intercession of Blessed Seelos has brought me a marvelous gift.
My husband went through treatment for throat cancer for over 2 1⁄2 years and is now in remission. Recently a new lump occurred in his throat. We were so worried the cancer had returned. We attended a Healing Mass honoring Blessed Seelos, where several priests and lay people prayed over us. Later that night, my husband told me that the lump had disappeared. Words cannot express the joy we felt as we realized he had been healed at the Mass.
My sister, aged 59, was diagnosed with ovarian cancer. The doctor performed a scope in which he discovered there was more cancer than originally thought. She then had chemotherapy and a second surgery was scheduled. The surgeon said it was as if an eraser had removed the cancer, as what was there 10 weeks earlier was no longer present! Thank you Blessed Seelos, we are forever grateful.